Features of Starvert iP5A
LS Starvert SV-iP5A has been specifically designed and created to provide competitive solutions for fan and pump applications.

Specialized Functions for Fan and Pump
The iP5A, specifically designed for HVAC application, provides stable and cost-effective system performance.
PID Control
Dual PID
Where external or cascaded PID control is required, the built-in dual PID algorithm of the iP5A can be utilized to satisfy various system requirements.

Multi Motor Control (0.75~450kW)
The iP5A MMC function provides cost-effective, simultaneous control of up to eight motors, without requiring external controllers.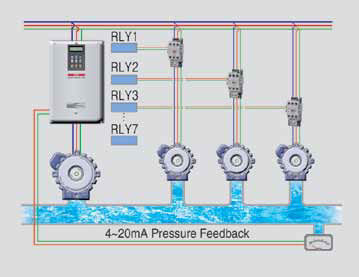 Energy Saving and High Efficiency
The iP5A, specifically designed for fan and pump applications, guarantees energy savings by optimizing the system.
Sleep and Wake-up Function
Pre Heating Function
When using the drive in damp conditions, this function protects both the motor and the drive's output.
Flying Start Function
Automatic Energy Saving
Load change may incur energy losses but the optimized flux control of iP5A results in more outstanding energy saving compared to previous models.
Intelligent Control
Because of effectual functions and protection algorithms, the iP5A provides constant performance, in spite of external power fluctuations.
Constant and Stable Performance
In spite of external voltage fluctuations and lightning surges, the iP5A optimizes motor performance.
Improved System Management during Power Dips and Momentary Power Outages
Safety Stop
During unexpected power failure conditions, the iP5A can bring the load to a controlled stop, by utilizing the inertial energy. This can prevent further process problems or accidents.
Current Leakage Reduction Algorithm
Flux Braking Algorithm
This algorithm reduces deceleration time, thereby improving system efficiency.
Automatic Carrier Frequency Change
By taking ambient temperature into account, the iP5A can automatically adjust the Carrier (Modulation) Frequency.
Protection
The iP5A has optimized protective functions, such as safety stop and pre-excitation of the motor, amongst others.
User-friendly Keypad & Easy Maintenance
The iP5A construction allows for easy maintenance, with ease-of-access to all components.
NPN/PNP Input
iP5A has both NPN and PNP input, and you can select one of them easily.
Abundant I/O Suggestion
Various Units of I/O Display
The iP5A display can be calibrated in many different types of process units.
Built-in RS485 and Optional Communication
Long-life Condenser and Simple Framework
iP5A adopts long-life condenser and enables easy maintenance in simple framework.
Consumption Time Display
iP5A displays consumption time of components so that users can replace them in time.